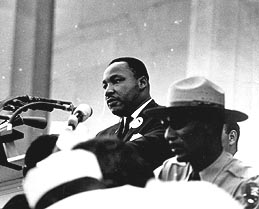 In addition to the greater Civil Rights movement, next Monday we also honor Dr. King himself, an American hero whose own powerful personality helped drive change. If he had lived, he would have turned 90 years old on January 15. Read more about his extraordinary ability to inspire generations with one of these books:
~~~
~~~~~~~~~
~~~
The Autobiography of Martin Luther King, Jr. – Martin Luther King, Jr.
Drawing on King's unpublished writings and other materials, a civil rights scholar assembles a first-person narrative of King's life.
Becoming King: Martin Luther King, Jr. and the Making of a National Leader – Troy Jackson
Unique portrait of the civil-rights struggle and how it shaped one of the country's foremost revolutionaries. Martin Luther King Jr.'s transformation into the voice of America's moral conscience would not have been possible without the influence of the grassroots warriors he met in Montgomery.
Behind the Dream: The Making of the Speech that Transformed a Nation – Clarence B. Jones and Stuart Connelly
A thrilling, behind-the-scenes account of the weeks leading up to the great event, as told by Clarence Jones, co-writer of the speech and close confidant to King.
Burial for a King: Martin Luther King, Jr.'s Funeral and the Week that Transformed Atlanta and Rocked the Nation – Rebecca Burns
An unlikely alliance of former student radicals, the middle-aged patrician mayor, the no-nonsense police chief, black ministers, white churchgoers, Atlanta's business leaders, King's grieving family members, and his stunned SCLC colleagues worked to keep Atlanta safe, honor a murdered hero, and host the tens of thousands who came to pay tribute.
Going Down Jericho Road: The Memphis Strike, Martin Luther King Jr.'s Last Campaign – Michael K. Honey
Provides an in-depth history of the final crusade of Martin Luther King, Jr., against the economic injustices, racism, and lack of political power that marked 1968 Memphis and transformed the city into a struggle between the white upper crust that sought to prevent change and the black workers, activists, unionists, and black-power advocates that sought to bring about equality.
Gospel of Freedom: Martin Luther King Jr.'s Letter from Birmingham Jail and the Struggle That Changed a Nation – Jonathan Rieder
Presents an account of the creation of King's famous "Letter from Birmingham Jail" and the related protest march on Washington, offering insight into its timeless message and crucial position in the history of human rights.
Hellhound on His Trail: The Stalking of Martin Luther King Jr. and the International Hunt for His Assassin – Hampton Sides
From the acclaimed bestselling author of "Ghost Soldiers" and "Blood and Thunder," a taut, intense narrative about the assassination of Martin Luther King, Jr., and the largest manhunt in American history–a sixty-five-day search that led investigators to Canada, Portugal, and England.
King and the Other America: The Poor People's Campaign and the Quest for Economic Equality – Sylvie Laurent
The Poor People's Campaign, designed by King in 1967 and carried out after his death, brought together impoverished Americans of all races to demand better wages, better jobs, better homes, and better education. He believed that not only a fight for rights but the radical distribution of wealth had to be demanded through interracial protest.
Parting the Waters: America in the King Years, 1954-63– Taylor Branch
The Words of Martin Luther King, Jr. – Selected by Coretta Scott King
A compilation of Dr. King's most significant speeches and writings.
~~~
Annotations provided by NoveList Plus. Log in to NoveList Plus for more reader information.