Silver screen icon Bette Davis was born on April 5, 1908 – 110 years ago. Depending on your age, you might remember her more for her sultry, smart, or smoldering movie roles (The Little Foxes, All About Eve), or more for her crazy ones (What Ever Happened to Baby Jane?). Or, if you're my age, you might not be able to remember her without thinking of the Kim Carnes hit song of the 80s, Bette Davis Eyes.
Learn more about this fascinating actress, or watch a great performance, by checking out one of these titles:
~~~
BOOKS:
Bette Davis – David Thomson
Dark Victory: The Life of Bette Davis – Ed Sikov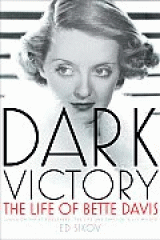 The Girl Who Walked Home Alone: Bette Davis, A Personal Biography – Charlotte Chandler
I'd Love to Kiss You: Conversations with Bette Davis – Whitney Stine
Miss D and Me: Life with the Invincible Bette Davis – Kathryn Sermak
Warner Brothers: The Making of an American Movie Studio – David Thomson
~~~
MOVIES:
What Ever Happened to Baby Jane?